All certificates come with our Copy Blocker technology. When photocopied, our certificates will show "copy" across the photocopied certificate. Genuine Corpkit® certificates are printed on 24lb., watermarked paper with 25% cotton content.
To print certificates, you first have to enter the shareholder, officer, director and stock class information by clicking on the corresponding tabs at the top of the page.
The program allows you to issue on demand the certificate to the individual investor. It will automatically number the shares with the next available number.
You can issue whole or partial shares.
In order to print an actual certificate first complete all the information asked in the new certificate window.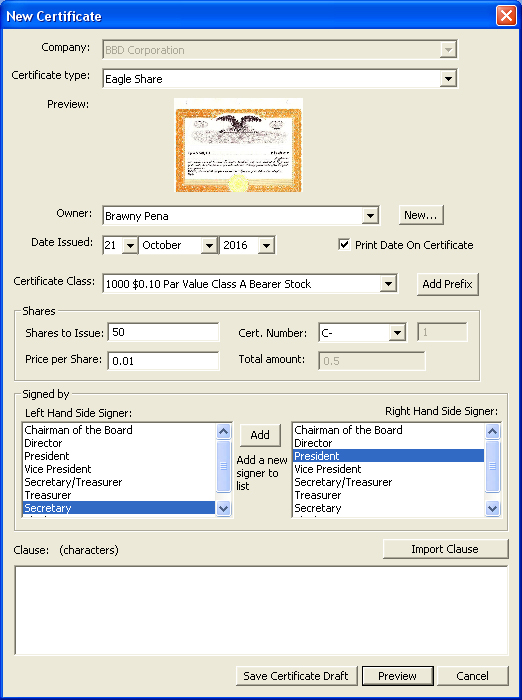 If you try to reprint the same certificate it will ask you to destroy the previous one.





WHEN VIEWING AND PRINTING CERTIFICATES YOU HAVE 3 CHOICES:
* Print and save a draft.
* Print the real certificate and save record.
* Print certificate as specimen.
PRINTING CERTIFICATE AND KEEPING AS DRAFT

Click on Issue certificate from the Member Tab or right click and select issue certificate from the company list window. StockTracer® allows you to issue full or partial shares.
In order to print certificates, you must first enter the stockholder information. To enter stockholder information you must click on the Shareholder tab on the top right.
You will have the following options to choose for printing and saving a certificate.

Print certificate and keep as draft (Draft will be held until you print the final certificate)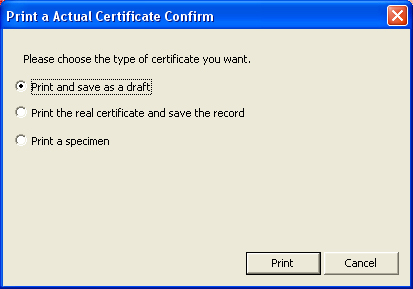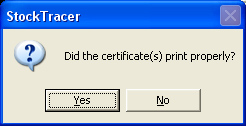 Click yes if the certificate is printed properly. You can also cancel the certificate to reissue shares if you need to!
PRINTING CERTIFICATE AND SAVE THE RECORD
Select this option to print the certificates and saved them as issued. It will sequentially number the certificate starting with number 1.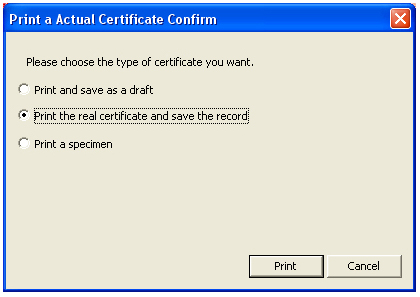 PRINTING CERTIFICATE AS SPECIMEN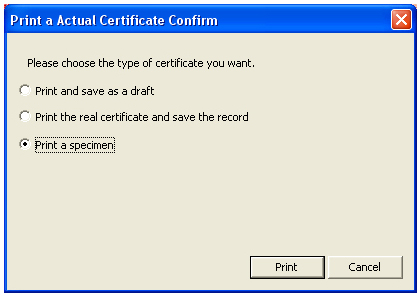 Select this option to print the certificates as specimen. It will print the word specimen across the certificate.
PURCHASE BLANK STOCK CERTIFICATES TO USE WITH STOCKTRACER
* Eagle share certificates
* Standard border share certificates
* Limited Liability (LLC) Unit certificates
* Limited Liability ( LLC) Interest certificates
* Limited Partnership/Not-For-Profit certicates

All certificates come in 5 Different colors:
* Green
* Blue
* Red
* Orange
* Brown
Click this button if you want to order more certificates